Whether you're a newbie to sports cycling or one of the seasoned veterans, bad habits while riding a bike can minimize the increase in your fitness. injury is unnecessary and makes it difficult to motivate.
Here are seven things bicyclists do but shouldn't, stop them immediately to make sure the bike parts maintain a long service life and the bike ride is effective. more.
1.Do not pump the tires while cycling
Most road bike tires can lose 5-10 psi / day. Tubes and tires can suffer more damage and affect longevity and affect performance while traveling on the terrain. In order to avoid unnecessary areas and improve comfort and efficiency on the road, always check the tire pressure before riding. Most sports bike tire manufacturers offer psi recommendations between 80 and 135. (The highest psi is usually printed on the edge of the tire). So when the pump should pay attention to this parameter and should go with the test pressure then adjust gradually to suit the terrain you go through.
If you ride at too low a pressure, your tube and tire will break down easily, and you are at risk of ruining the rim. deformation and deformation, the tire is bitten very large, making the maintenance very expensive.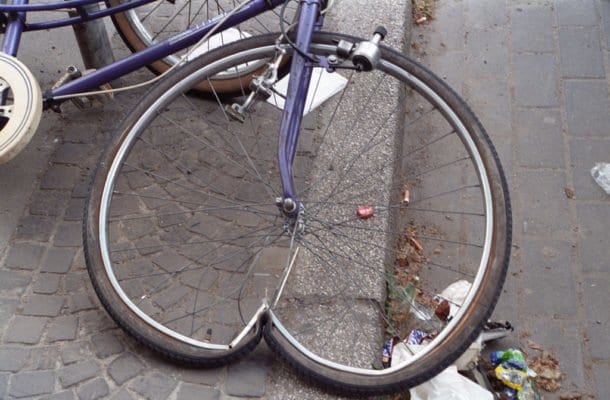 2.Don't let go of your chain
Chain cleaning should be done once a month, cleaning your bike chain with degreaser and reusing the chain lubricant to help extend the life of your parts and keep your system in place. can work more smoothly. During the winter months or after any windy ride, you'll need to clean your powertrain more often. When the chain makes a noises, it means your chain needs to be cleaned and lubricated.
One note that if riding a bicycle in the rain, after driving, it is recommended to clean the chain for a maximum of 10 minutes or as quickly as possible. Do not leave it for a long time to avoid rust.
3 Take a nap
Taking a nap after each tough workout may seem like a good idea to help you recover quickly and prevent injuries, and improve flexibility. Though it's not always practical to go through an exercise routine after a trip, learn to eat something quickly, you'll see the greatest benefits for your body. If you get into the habit of stretching right after getting off your bike, like being able to do light exercise instead of sleeping, your muscles will cool.
4Take the same route only
Cycling on the same route and working again and again can be distracting. One of the ways to keep your bike mentally fresh is to try new routes once a month. In addition to keeping your workout more enjoyable, it allows you to explore new areas, riding on a variety of technical terrain will help you increase your experience and skills. driving technique. Especially plan your trip, push your weekend challenges and do more.
In order to find popular local cycling routes, in the area you live in, you can also search for a map search function or do an experimental survey before the terrain and then go.
5. Ignore long sessions
A long morning trip to work every week are good habits. But to increase speed and endurance on your bike include time in your weekly training cycle.
Intervals are also made for effective training sessions and can usually be completed in less than an hour but can take place around 3-4 times per week for best.
6.Always go alone
Cycling alone can also be a great way to relax your mind and make you happier. But there are also benefits to group driving. Riding a bike with others can push you more than cycling alone and can help you get bored quickly. If you don't have a partner to practice with, try joining your local bike club. Participating in a weekly group trip can also be a better way to meet people. Build good friendship relationships with fellow sports enthusiasts where you can share and learn from precious cycling experiences.
With experienced cyclists at local cycling clubs they can also teach you the basics of cycling to help you practice driving skills, learn how to ride a bike and have a more effective, mental experience more at ease. This is a very essential skill if you are going to enter a race. Here are some tips for cycling etiquette so you can combine things and develop new skills. Please ride a bike with 1-2 people at least 2-3 times per week.
7.Nothing to look forward
Training without a real purpose can make it harder and easier for you to let go of your passion. Whether it's a short ride just for fun or a long race to test your fitness. Event registration for cycling competitions can also provide a purpose for all-time training to help you promote future cycling memorable and add more love to cycling enthusiasts.
If you are a novice use a sports bike Please note the above mistakes to be able to have the best trip!
>> Maybe you are interested: 3 common mistakes encountered when washing bikes

Source content: 7 mistakes cyclists need to stop doing
>> Bike How