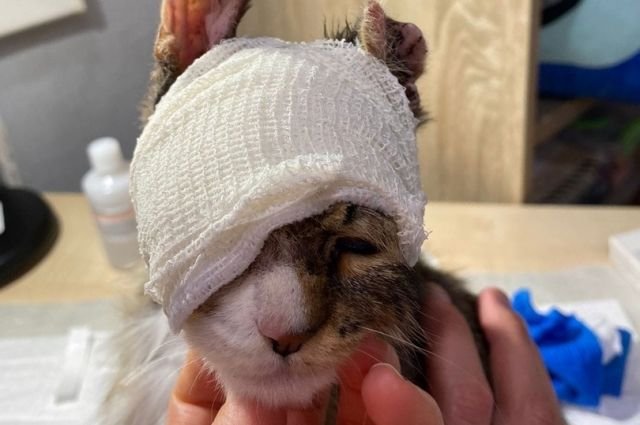 Tver Animal Protection Initiative Group /  From the archive
Tver volunteers told the story of a fashionable "baby" cat rescued from the school, which is now undergoing rehabilitation and waiting for its brave man. Videos and pictures were posted in the community "Initiative group for the protection of animals."
The rescued animal is called a baby cat, as it was found almost a month old kitten at the Tver school. She was in a terrible state: a deep wound gaped on her head, her right eye was badly damaged, her body was exhausted with wounds. What happened to the harmless baby – it was not possible to find out. But the cat spent her last strength to crawl out to people, ask them for help and compassion. She was taken to a veterinary clinic, the volunteers did not believe in a miracle, but the little one literally "clung" to life with all her paws.
"10 days have passed, and the baby is alive! Moreover, this is how he wants to live. She breathes, eats and even stands on her paws-stalks. Ahead is a long recovery and operations on the eye and stitching deep wounds," said the volunteers in the group.
Other caring people also noticed the kitten. Soon she became a real fashionista: they sewed bandages for her, made a bed.
"The baby continues to be intensively treated. Today I made an appointment with a traumatologist – we will decide what to do with the paw. The therapist already had a new treatment prescribed," they reported in early September.The middle of the month also started with good news. Glamor striped was discharged from the hospital for home treatment. Her condition has improved.
"The wounds, of course, are terrible, we will not show what is under the bandage. Operations are indispensable, we need plastic surgery on the right side of the head and surgery to stitch deep wounds. But this is all later, we will do it when we are completely sure that he will survive anesthesia. Our favorite hero, fighter! So tiny, and so fighting for life, "the next video report was signed in the Initiative Group.
The latest news came on October 1: the baby had another dressing done: "she feels good." Users nicknamed the cat "sweet bunny."