I mean- when am I not thinking of making some fansnax? I mean, I'm thinking of making fansnax based on arthropleura, the prehistoric millipede the size of a grown man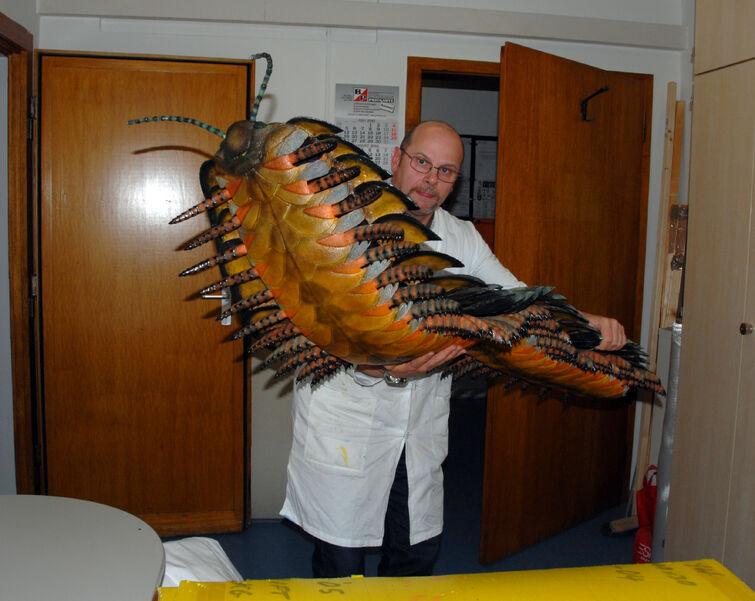 And aegirocassis, the giant prehistoric shrimp.
A recent study in the Journal of Geological Society (December 2021) describes how researchers in the UK found a fossilized exoskeleton of an arthropleura. Coming in at more than nine feet and 100 pounds, the enormous millipede neatly edged the now-extinct sea scorpion out of #1 in the contest for "largest bug ever." And although it's hard to imagine an arthropleura would ever have to defend itself, if threatened, it could rise up like a cobra and tower over their predator, as tall as a person!
TRILOGY OF LIFE: Walking with Monsters & Prehistoric Park – "Arthropleura" | BBC Worldwide
Okay, but how do we know they were actually size XXXXL? Using both their fossilized bodies and scientists have been able to measure the width of their trackways and then calculate their length. (Another reason to take that dreaded math class!)
One of the fun things about this recent discovery was they unearthed the largest arthropleura ever found—by accident! A block of sandstone on a beach in northeastern England had literally just fallen off of a cliff and broke to reveal the fossil inside, and a person just happened to walk by it.
Fossil footprints of Arthropleura, Laggan Harbour, Isle of Arran, Scotland | Wikipedia
So go take a walk! Who knows what other adventures are hidden in the rocks and cliffs and earth all around us?