In the past few years, the cheap sports bicycle market has been developing and taking up a large share in the general bicycle market structure. With the variety of designs, models and categories to the variety of prices, there are many opportunities for users to choose their favorite car. The demand for sports bicycles is increasing and increasing strongly in urban areas and cities, so cheap sports bicycles are increasingly consumed. Shortly back here, sports bicycles cost under 1 million Is causing a strong fever because the price is too cheap, everyone can own a sports bike. So what is the quality of this cheap bike, should you buy it or not? Let's go find out!
1. Origin
Most of the cheap sports lines are from China because of the unknown brands. As we know now, some long-standing sports bike brands such as Giant, Trinx, Twitter, Nakxus, Fujisan, Fornix. Have quite strong market share. In particular, Giant is a big player in the sports bicycle market and recognized in the No. 1 position in the market.These bicycle brands also focus on exploiting the potential for low-cost market share but their popular price. The lowest price is more than 2 million for Fujisan's cheap car and Giant has the cheapest price of nearly 6 million VND for a sports bike.
As for the line cheap sports bicycle 1 million dong These vehicles are mainly processed goods of small brands. We know that in China – known as the world's largest machining workshop with sophisticated machining skills, low labor costs, and cheap raw materials are favorable conditions to produce cheap products. Most of the brands of bicycle production today have factories in China to take advantage of those advantages.
2. Quality goes hand in hand with price
Her grandparents have learned from experience that "what money is" of course the quality of a car sports bicycles under 1 million how does it compare with the 3 million dong bicycle?
Moreover, it is undeniable that sports bicycles costing less than 1 million can find aluminum frames because aluminum materials to produce aluminum frames are many times more expensive than steel.
Even cars priced at more than 2 million dong only use steel frames to minimize costs, so the new price is so cheap. With sports bicycles cost 1 million no exception, if more luxurious, use steel alloy materials with some additional components such as zinc, tin and some synthetic ore … Steel frame is very heavy but now also Improvements in molding technology make the frame much thinner and lighter than before, but generally still heavy, and of course the steel frame will never be able to escape oxidizing agents from the environment. They quickly rust in the steering wheel, frame and saddle system. The car will quickly degrade only about 2-3 months after continuous use.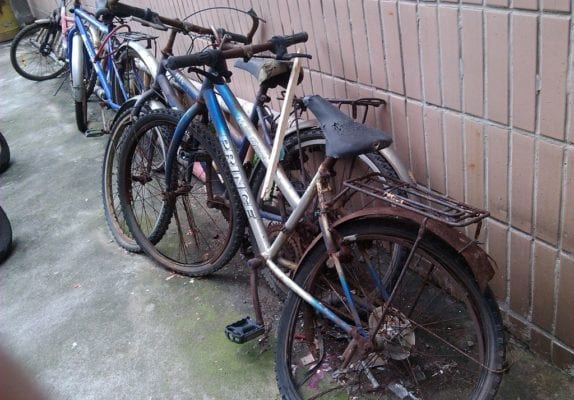 Configuration is a remarkable thing on sports bicycles, usually the components used to equip the bike are usually big brands such as Shimano, Sram, Campagnolo … but for cheap cars under 1 million At the same time, I fear that it is very difficult because basically a set of groupsets or the cheapest removable components have reached several hundred thousand.Therefore, the components fitted on this car are mostly normal, no names age in the market or are knockoffs of poor quality, not as flexible and smooth as when using genuine groupsets from big firms.
Not only groupset but other components such as tires, the saddle is also cheap, poor quality, thin tires are easy to explode and tear, the seat hurts buttocks due to too hard foam.
3.Design Highlights
In terms of design, cheap cars are somewhat more prominent than high-end cars. Often high-end cars receive more attention for features and quality of the best upgraded components and there are not many options for style and color. What can be seen with low-cost cars is that it has a lot of options and colors, attractive to consumers and better suited to preferences.
With the most advanced processing technology, the bicycles priced around 1 million are considered quite beautiful, but the paint technology has not reached the sophistication. At present, all models of cars are applied with advanced paint technologies such as submerged welding paint, electrostatic paint … which are able to resist oxidizing agents of the environment.
The surface coating of a $ 1 million sports bike frame is usually the base layer, often prone to peeling after a period of use or slight impact, exposing the flesh of the chassis. Steel is exposed to the environment, oxygenated water and moisture, making them rapidly rust and wear.
4.Regularly determine the need to buy a car
Of course, no one wants to spend some money and get a very poor quality product. Quality sports bicycles cost 1 million is always a matter of concern than beautiful or bad. We need to base on our own needs and the conditions to buy a car because we must note that the frequency of cheap cars damaged a lot during use.
If you buy a car to travel, exercise regularly, send your children to school, you should not buy this car because the weak chassis is easily broken. After a short time using diapers quickly and the cost of repairing is more expensive than the value of the car. Moreover, finding accessories to replace these models is not easy to find because it is not equipped with genuine accessories. Few bike shops sell these accessories.
If you intend to buy a car to travel a few weeks or a month for those who have to travel for business, or to transport things, to save money, you should buy this type of car.
In general, the mentality of consumers is usually greedy for cheap, discounted goods are good savings, but you should be careful about the cheap bicycles under 1 million of China because long ago cheap goods in China is rated extremely poorly by consumers. When buying a new car seems very satisfying and comfortable, but who knows that it can cause illnesses at any time and how much more expensive treatment than investing in a quality car higher .
If you still intend to buy a sports bicycle for 1 million you need to consider and consider carefully with your usage needs. If only used for a short time, it is more reasonable for long term use.
5.Where to buy cheap sports bikes with prestige
Currently to be able buy cheap sports bicycles in Vietnam is not a difficult problem. There are many choices in the price range from 2 to 3 million, you can refer to some models of Fujisan, Vaenger or Nakxus … These are the cheap cars that are favored by students. If you need to practice sports and use it for a long time, please refer to many new cars coming out of Twitter, Trinx or Giant.
Bicycles The World is proud to be the company that distributes genuine sports bicycles, ensuring the quality and best prices in the market. All customers buying bicycles at the Bicycles showroom will enjoy a warranty of up to 5 years, receive an additional 2 years of free maintenance and have the opportunity to receive many attractive gifts.
For more information, please contact the hotline: 0979.83.9922 or 024.6686.9919
Experience at the showroom: 5/116 Nguyen Xien, Thanh Xuan, Hanoi
>> Maybe you are interested: Top 6 cheap but durable Trinx bikes

Source content: Buying a sports bicycle for less than 1 million "money to lose a disability"
>> Bike How