Campagnolo is one of the Italian manufacturers of bicycle components with headquarters in Vicenza, Italy. Components are organized in Groupsets Campagnolo (gruppi) and it becomes an almost complete collection of bicycle mechanical parts. Among these groupsets Campagnolo's top members are the Super Record, Record and Chorus groups, which show off their recent transition to an 11-speed driving system. Record and Super Record are the top groups, followed by Chorus, Athena, Centaur and Veloce. For people to get a more overview and more detailed about this Groupset you can refer to the article below.
1.The development history of Groupset bicycle Campagnolo
From the 1940s to the 1980s, before Shimano entered the market bicycle groupsetCampagnolo is the world's most powerful manufacturer of bicycle equipment, having close business relationships with famous chassis manufacturers such as Ernesto Colnago or working with big names in the racing village. like Eddy Merckx (believed to be a close friend of the founder of Tullio) to produce the best racing bike groupsets of the time. Groupset sets such as C-Record and Nuovo Record can be said to be the most dazzling milestones of Campagnolo in particular and of the cycling world in general. These groupsets are still rare items for bicycle connoisseurs to this day.
Campagnolo groupsets are judged for their high performance, with designs imbued with Italian art, many meticulously handcrafted details, somewhat showing the enthusiasm and seriousness in side production. bicycle parts by Campagnolo.
Explore more:
– Shimano branded groupsets
Distinguish groupset Sram, Shimano and Campagnolo
Check out the Sram groupset
During the 1980s and 1990s, Campagnolo faced fierce competition from Shimano, an emerging Japanese rival. Thanks to the application of new technologies, Shimano is able to produce large quantities of high-quality bicycle parts at low prices, gradually taking over the world Groupset market. In contrast, Campagnolo at that time was slow to change the method of production (most Campagnolo groupsets at that time were still produced by hand at the factory in Vicenza, while others were produced in a factory near the Romanian border), and mainly focused on the high-end groupset segment, has lost market share to Shimano.
However, learning from his previous failure, Campagnolo became the first to produce groupsets of carbon fiber and titanium and applied computers to modeling and design processes. Campagnolo was also the first to market 11-speed groupsets, and most recently an electronic groupet highly acclaimed by cyclists.
Over time, Campagnolo has acquired a loyal following, mostly racers and cyclists. So far, Campagnolo has four 11-speed mechanical groupsets, three electronic groupsets and two 10-speed mechanical groupsets. Before going into the details of each groupet, there are a few things that people who intend to buy and use Campagnolo groupsets:
– Internal parts groupset Campagnolo Only compatible with Campaglono's chain and sprocket (wider distance index than the SRAM / Shimano), so don't expect to combine Campagnolo groupsets with other types of groupsets.
– Campagnolo tweezers can only be fitted on the rear wheel of Campagnolo (because the sewing pattern of Campagnolo is not the same as Shimano / SRAM).
– Campagnolo groupset parts need to use Campagnolo wires (because Campagnolo's wire end has a smaller diameter than Shimano / SRAM, so Shimano's wire when installed will not fit Campagnolo's lever).
Campagnolo groupsets use Ultra-Torque and Power Torque crank designs, so they are all compatible with the current mid-beam standard.
2. Typical Groupset models for Road-bike
Here are some typical groupsets for Road-bike by Campagnolo
2.1 SUPER RECORD 11 EPS
These are 11-speed electronic groupsets most clearly demonstrating Campagnolo's peak-shifting ability. With carbon fiber components (even front and rear axles), titanium screws and shafts, ceramic CULT bearings, electronic transmission and 11-speed shifting For a while, Super Record 11 EPS did not really have a match. The Super Record 11 EPS's electronics packages are designed with superb water resistance and allow cyclists to make system adjustments even while cycling. Campagnolo also proudly claims the EPS batteries for these groupsets are capable of running 1,200 miles per charge.
With such outstanding advantages, Super Record 11 EPS is of course the most expensive groupet of Campagnolo and more expensive than any other high-level groupet of Shimano or SRAM. The Super Record 11 EPS is designed to be at the top of the pack, so if you're looking for the perfect groupset for your pet bike you won't be able to find any better.
2.2 SUPER RECORD 11
Super Record 11 is the 11-speed muscle groupset any professional should dream of. Before the advent of Super Record 11 EPS, no groupsets (both Shimano and SRAM) could match with Super Record 11. Like Super Record 11 EPS, parts of Super Record 11 are made of titanium, hardware and crankshafts made of titanium, bearings and shafts are ceramic. All of these components are combined in one perfect design, allowing you to achieve maximum pedal performance with every pedal stroke and gear shift.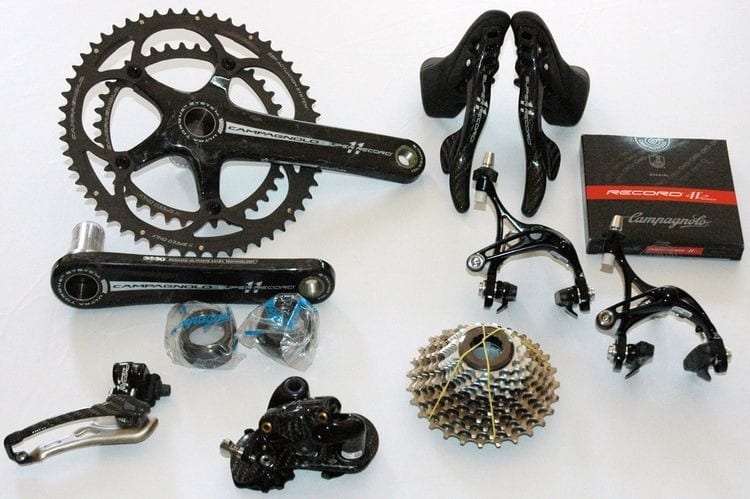 Super Record 11 uses Ultra-Shift technology, which makes it possible to decrease 3 numbers or increase 5 numbers in one turn. For those unfamiliar with electronic groupsets like Super Record 11 EPS, Super Record 11 is the best option,
2.3 RECORD 11 EPS
These are groupset used by Campagnolo to fund professional racing teams. The Record 11 is generally identical in design to the Super Record 11 EPS, but uses more conventional (and of course less expensive and more durable) materials, such as steel bearings, hardware and alloy shafts. Other Record 11 EPS parts also use titanium and are also capable of shifting the entire clutch in a single gear shift. Of course, with such materials, the Record 11 EPS will weigh a few grams heavier than its Super Record 11 EPS brother.
2.4 RECORD 11
The Record 11 is an 11-speed mechanical groupet and is identical in design to the Super Record 11, except that it does not use titanium for the hardware and the spindle, but uses cheaper material than aluminum. Bearings also use steel instead of ceramic like the Super Record 11. However, the Record 11 also uses carbon fiber material for the parts to reduce weight, increase durability and improve performance for the vehicle. Record 11 also uses Ultra-Shift technology that allows the cyclist to lower 3 or increase 5 feet at the same time. Record 11 is a bit heavier than the Super Record, but still very suitable for professionals.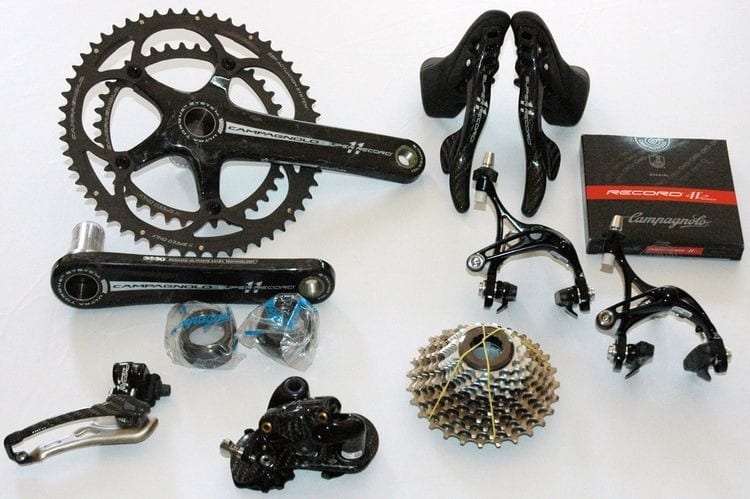 2.5 CHORUS 11
The Chorus 11 is a fairly efficient 11-speed mechanical groupet set at an affordable price point. In general, the Chorus 11 has a design that is almost similar to the Super Record and Record, but the Chorus does not use carbon fiber for the front axle, but uses aluminum (the joints are still carbon fiber).
Chorus 11 also uses Ultra-Shift technology like its brothers. For those wishing to have a set of high-performance groupsets, but not too much money, Chorus is the best choice.
2.6 ATHENA 11 EPS
This is a set of 11-speed electronic groupsets, identical to Super record and Record EPS in terms of functionality, but not using expensive carbon materials, but mainly aluminum. The front and rear shifter and front and rear shifter are made of aluminum, so they are more durable and impact resistant than carbon fiber, but will make the vehicle's weight a bit heavier. Like other Campagnolo electronic groupsets, the Athena 11 EPS is also completely waterproof, can switch the entire pod in one go and also allows cyclists to adjust the system while riding. Athena 11 EPS of course also uses an EPS battery capable of traveling 1,200 miles per charge.
2.7 ATHENA 11
This is Campagnolo's 11-speed popular groupset line, using three main materials: alloy, aluminum and a little carbon fiber. In general, Athena 11 mainly uses aluminum so it is more durable and ideal for bumpy roads, as well as for those who are not too expensive.
2.8 CENTAUR 10
Centaur 10 is a variant of Campagnolo's 10-speed Record groupset. Centaur 10 is divided into 4 different versions: Silver alloy version, black alloy version, black alloy version with red graphic lines and the version using black alloy combined with fiber material. carbon. Centaur 10 uses Power-Shift technology, which allows the rider to lower 3p at the same time, but gain only 1p at a time.
2.9 VELOCE 10
These are Campagolo's 10-speed mechanical groupsets, divided into two versions, a silver alloy and a black alloy. Overall, Veloce 10 is Campagnolo's cheapest groupet set, which also uses Power-Shift technology like the Centaur. Today, Veloce is the groupet of choice among amateurs and casual riders.
If you are a player and are planning to upgrade your racing car to a better configuration, you can consult the useful advice of top sports bike experts to get the best results. bicycle consultant The most useful way through which to make the right and appropriate decisions.

Source content: Learn the Campagnolo Groupset bike sets
>> Bike How