When choosing a sports bike is not only about design and good quality, not just for health training, passionate enjoyment. Many people are also interested in its usability, such as being able to carry things, drive children to school … Sports bike with rear saddle Many people choose by the useful features it brings. For sports bike enthusiasts who have small children or have to carry extra cargo, this is a great choice.
However, if a sports bicycle is fitted with the rear seat, it often loses its aesthetics, making it lose its health. But still there are cars designed with high aesthetic appeal and harmony. Current sports bike, terrain with saddle usually very little. Here are the two best-selling saddle sports bikes on Bikes.
Depending on your financial ability and preferences, you can choose a car that is more suitable for you to choose to buy.
1.Sports bike with seat after Catani ATX 550 price

2,850,000 ₫
The car is designed to be extremely strong and robust with 3 color options: Black – Red, Black – Green, Black – Orange. The car is chosen by many people, especially students and students, and is suitable for both men and women.
>> See more details: Catani ATX 550 sports bike
The frame is designed with solid, durable but not heavy alloy steel. Strong steel forks for better handling and shock absorption. Accessories such as steering wheel, stem, steel saddle pile have good rust resistance. The movement is equipped with a 21-speed Shimano handshaft combined with a Sunrun that handles agility and rhythm for precise gear shifting. In addition, the car is equipped with a safety mechanical disc brake system to help smoothly on different terrains such as slippery roads or gravel roads.
>> Refer to the top 8 sports bicycles priced at about 3 million here
2.The sports bike has Fujisan steel bracket rear saddle

2,290,000 ₫
Fujisan is a cheap and famous sports bike brand in Japan. The design tends to target students, students, and middle-income earners, so this company always designs towards not only design but also focuses on features. The Fujisan Sports Bike has a steel frame design on the back with a sturdy baga guard.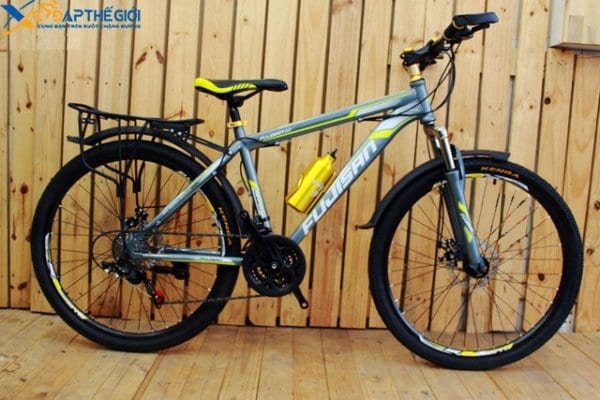 >> See more details: Fujisan steel sport bikes
The chassis is made of steel, but it's not heavy. The locking mechanical suspension handles shock well. The fitted accessories are made of steel that is more durable than it can withstand a great impact. In addition, the 24-speed motion system combined with flexible 24/34 / 42T disc thighs and many options, giving users a lot of experience. Sports disc brake for flexible handling and safe in the rain. The car has a sturdy 2-layer aluminum rim combined with durable kenda tires that bear a large load.
3.Sports bike with seat after Giant Hunter 2.0-2017 price

5,499,000 ₫
Giant hunter 2.0 bicycle is not just a sports car with rear seat. It is one of the city cars with the feature of big tires for the city and mixed roads. The sporty design is designed to be suitable for commuters. The car has a fender with a full-size half-wheel with a very sturdy baga behind.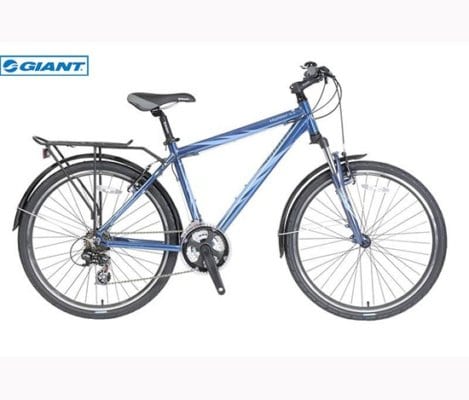 >> See more details: Giant Hunter sports bike saddle
The aluminum frame design of Aluxx Grade not only reduces the weight of the car quite a lot, but also provides a strong stability when in use.One plus point for Giant Hunter is the accessories such as the fork, steering system. , pedal, boost po, saddle pole are genuine Giant with high durability and quality. The movement with handshake is SHIMANO SL -RS45, the first one is SHIMANO FD-TX51 and the second one is SHIMANO FD-TY510-TS6 with its smooth and smooth city, providing precision in the speed of shifting. Vehicles equipped with genuine Giant brakes are durable, safe and more stable when going even in the rain. The Shimano MFTZ20 clutch combined with the powerful 28/38 / 48T disc thigh and the Shimano 21 thread help keep the shifting countries stable and definitive.
With such a good price and configuration, the Giant Hunter bike deserves to be a bike worth buying. The car goes very light and extremely smooth on all terrains, if you do not go into the road well, the mechanical suspension will absorb quickly and reduce the shock from the road surface.
If you have a need to own one of the above bicycles, please contact Bicycles World immediately to own good bikes with great deals. Proud to be a genuine distributor of sport bikes with rear saddle, we are committed to our customers with the best quality.
when the buy a sports bike At Bicycles World, each bike warranty is up to 3-5 years and moreover we offer 2 years free maintenance for all customers. Do not hesitate to come to Bicycles World to own yourself the best bikes. If you still have a lot of questions and do not know which bike to choose, you can consult more. advice on choosing to buy sports bikes From experienced experts or longtime car players to help me choose the best car!

Source content: Top 3 sports bicycles with cheap, quality saddle at Bikes
>> Bike How