Mentioning Shimano is to mention the company specializes in manufacturing all kinds of famous and popular bicycle threads on the market today. So Shimano has a few types of themes for these sports bike model , what kind for Mountain bike (MTB), what kind is for city (City Bike), what kind is for road bike (Road bike).
1. Set of Shimano for city bikes – City Bike
1.1 Shimano Metrea U5000
The Shimano METREA U5000 offers reliable performance with a sleek, simple design suitable for simple city cycling needs. This theme has 2 options for you to choose from Speed ​​are 2 * 11 and 1 * 11.
See more detailed components of this theme here
1.2 Shimano Alfine S700
Hit neighborhoods in style with ALFINE – a set of premium groupset built for cyclists in a complex, crowded metropolitan area. Along with its high build quality, ALFINE gives you a feeling of finesse, high flexibility, and easy operation. You can choose An 8-speed or 11-speed configuration, the ALFINE is compactly designed and a wide range of support equipment to serve any frame.
This Groupset set includes 16 different details for you to customize with each type of frame and disk set.
>> See also: Synthesize the types of subject and groupset Campagnolo here.
1.3 Shimano Alfine S700 Di2
This is an upgrade of the S700 version above but is an electronic version with 19 different components suitable for you to customize with different types of chassis.
1.4 Shimano Nexus
The NEXUS Groupset has 8 speeds, providing a high degree of design, quality and functionality. Many technical advances have been achieved, like SHIMANO's unique combination of Gear changer mechanisim makes gear shifting easier.
2. The Shimano Group for off-road bikes
2.1 Shimano XTR M900
In the New XTR M9000 series the XTR M9000 is its highest mountain bike and wheel kit to date. This brand new XTR M9000 is used for both Race and Trail "Rider-Tuned" series.
Inspired by the versatility and capabilities of today's racers and the terrain they settle, the XTR M9000 offers refined solutions and design testing for the way they ride. The movement offers 3 options for you: 1 * 11 Speed, 2 * 11 Speed, 3 * 11 Speed.
The Group M9000 offers 39 different accessories, depending on your choice to suit each model, your chassis size.
2.2 Shimano XTR M9050 Di2
Shimano's XTR M9050 DI2 shifting system delivers constant control and immediate response that only digital shifts can deliver to the M9000 Rhythm Step drivetrain. Bring the digital age for Mountain bike, giving them control over their ride experience, no matter their discipline, like never before
The movement has 2 choices for you about the 22 Speed ​​or 33 Speed ​​movement with 11 different accessories in the Group.
2.3 Shimano DEORE XT M8000
The Groupset Shimani Deore XT M8000 brings a more powerful and beautiful design when it comes to design ratios that are more efficient with the needs of the user.
Want to go uphill, or looking for a more active ride? Do not worry. Gears maximize traction while our wheel set provides toughness, reliability and speed all the room.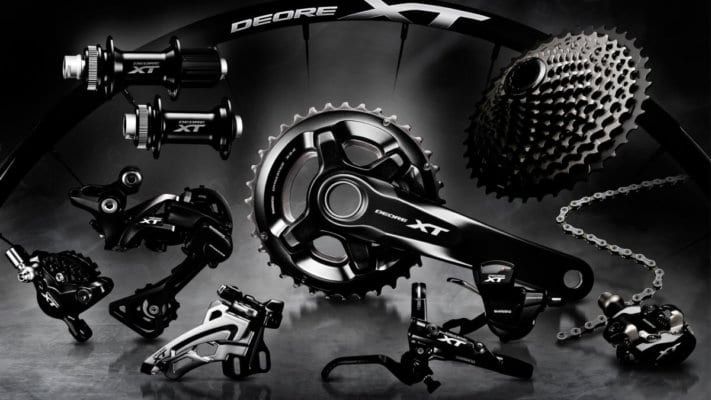 This Group consists of 27 different details that serve the unique needs of each person. You can choose from 11-speed, 22-speed, 33-speed, depending on your preferences and practical needs.
2.4 Shimano DEORE XT M8050 Di2
The Deore XT M8050 Di2 is the perfect combination of the Electronic Number Unit (Di2) with the other components in the movement. Help you prepare better for new adventures, challenging but better controlled land.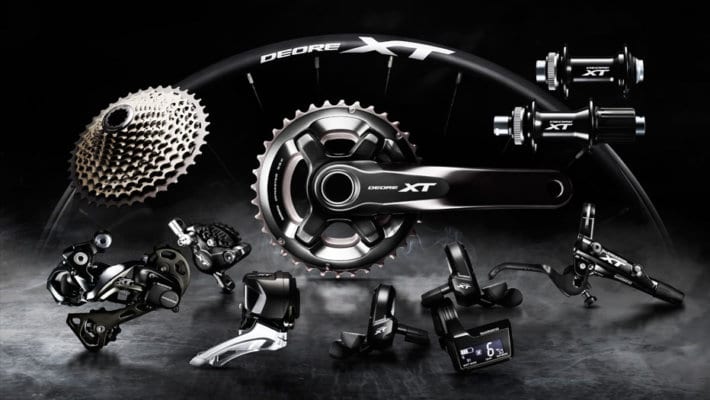 In addition to the same components and accessories as the Deore XT M8000, this Di2 version adds four more components: SC-MT800 electronic set, SW-M8050 handpiece, FD-M8070 prefix, after RD-M8050 -GS. There are still 3 sets of 11 -22 -33 Speed ​​movements.
2.5 Shimano SLX M7000 11-Speed
With the rider-tuned SLX M7000, you can ride how you want on virtually any terrain. The power transmission DYNA-SYS systems provide intuitive equipment combinations for optimal power delivery. No matter how coarse, rocky, or muddy the trail, you get ultimate off-road stability. SLX M7000 allows you and your bike to become one with trails.
2.6 Shimano DEORE M6000
The New DEORE M6000 has a wide gear ratio capable of delivering a smooth setting in all conditions. Offers Shimano braking technology capabilities, slick and shift action and an efficient front-wheel drive combined with a wider range band will tackle all the ups and downs your ride will throw in. you with Shimano's proven technology. In addition, a new low gear option for the wide tire trend (27.5Plus) is offered
This Group includes 29 different accessories for you to customize with each vehicle. The movement has 2 options: 20 -30 Speed.
2.7 Shimano DEORE M610
The Rider Tuned is the aim of the new DEORE M610 development. That is achieved and the new DEORE M610 is the grouping of options for a variety of vehicles and riding styles. From cross-country to trail, from Hardtail to Full Suspension, the DEORE M610 has something for every need. Furthermore, the DEORE M610 component is top quality and durable.
2.8 Shimano SAINT M820
Designed for eager downhill racers, the SAINT M820 lets you accelerate and decelerate at World Cup level. If you want to increase your focus and channel focus on white-knuckle downhill rides, this is the groupset for you.
2.9 Shimano ZEE M640
The Zee M640 provides a solid foundation to support you in mountain trail bows. This is one of the groupset that gives you the confidence to find your flow and handle even the gnarliest rides down the slope. If you're new to gravity riding, the Zee M640 is the perfect place to start.
2.10 Shimano DXR MX70
SHIMANO DXR MX70 brings premium design and engineering to BMX racing. Designed to meet the needs of today's Olympic customers. Ideal for use on the track.
2.11 Shimano ACERA M3000
Group ACERA M3000 is characterized by three keywords: precision, precision and style. This group provides precise displacement with less electric pedal loss, powerful braking force, excellent braking performance for precise speed control, an interesting stylish design and slim profile.
2.12 Shimano ALTUS M2000
New series ALTUS M2000 will adopt DNA of ALIVIO / ACERA MTB spec. This is Shimano's most premium group line for MTB bikes. With 10 components that make up the 27 Speed ​​movement.
3. The Shimano Group for racing bikes – Roadbike
3.1 Shimano DURA-ACE R9100
The Dura ACE R9100 is Shimano's highest-line series of racing bike groupsets. The set of 28 different accessories allows you to customize your 22 Speed ​​movement.
3.2 Shimano DURA-ACE R9170 Di2
An upgrade to the Dura ACE series with the electronic gear shift system, making it easier and more convenient to get started at high speed.
3.3. Shimano ULTEGRA 6870
Version 6870 has 17 accessories attached, creating 22 Speed ​​movement with 2 front and 11 rear discs, high-quality rim brake.
3.4. Shimano ULTEGRA 6870 Di2
The Ultegra 6870 upgrade is handled by microelectronics to help you hands free on the track, with more suitable and optimal adjustments. Includes 23 overall components to help make up the 22 Speed ​​movement.
3.5 Shimano 105 5800
105 5800 assists every racer who achieves his personal goals for daily training and long trips on weekends, and goes with friends. The best balance of 105 5800 brings joy to every rider with dependable reliability. New 105 5800 will give each rider a sense of satisfaction, joy and satisfaction with advanced functionality, smoothness and ergonomics.
3.6 Shimano TIAGRA 4700
The Shimano Tiagra 4700 is designed with a sporty and sophisticated look and style, offering a 22-speed movement with gentle shifting hands.
3.7 Shimano SORA R3000
The new SORA R3000 is the most attractive and powerful 9-speed component. SORA R3000 is thrown towards sport / fitness cycling with stylish and clean design. Now with technology raised from higher level groupsets, both new beginners and sports enthusiasts will feel comfortable going with the features that the 9-speed SORA R3000 introduces.
3.8 Shimano CLARIS R2400
The Shimano Claris R2400 series gives users 2 options: 16 Speed ​​or 24 Speed ​​with 14 different accessories to choose from.
3.9 Shimano CLARIS R2000
The Claris R2000 series is designed at a price point for new racers but is designed for riders to easily pedal around town, but has the durability to handle a long tour. Claris R2000 offers 18 devices with 16 Speed ​​and 24 Speed ​​options.
Hopefully with the above information, you can choose for yourself a set of Group and a suitable theme for your bike. If you are wondering when you need to upgrade the subject for a sports bike or when you buy a bicycle, please consult the Sports bike selection advice Experienced people or sports bike experts to have the right options!

Source content: What kinds of bike themes does Shimano have?
>> Bike How