Sports cycling in the past few years has become a strong trend that many people love and support not only young people but also middle-aged people, housewives, office workers to Elderly . This is a new, modern culture that needs to be encouraged in modern life in developed cities like Hanoi today.
Walking through countless large forums, large and small social groups can frequently encounter questions and commentary topics around " Where to buy reputable sports bikes and quality " . Because today meets the tastes of consumers, opening a market of relatively diverse bicycles, rich in types and models. The sports bicycles are mainly partly domestic goods, the second is imported to Vietnam. Imported goods are mostly produced by famous brands, large and small in the world, not only meeting the quality but also making the fashion and aesthetic satisfaction of consumers, especially especially of today's young people.
1.Diversify the imported sports bicycle market
Most of them have 2 imported cars, 1 is genuine imported from Germany and the US for high-end sports bicycles with prices up to tens, even hundreds of million dong. This model is not very popular because it can only satisfy high level players.
The second is imports originating from the outsourcing factories of major brands with headquarters in Asian countries such as China, Thailand and Taiwan. Due to the purpose of minimizing production costs and labor, factories located here are thoroughly optimized in terms of production costs for fuel, labor makes the price of bicycles cheaper to sell but still retain quality. quality due to being transferred by standard technology of the company and verified by the European Union EU.
Imported sports bicycles Having penetrated the Vietnamese market for decades, some of the popular low-cost sports brands are popular and loved by many consumers such as Giant bike , Trinx, Twitter, Galaxy, Canondale, Nakxus, Fujisan …
The market is diversified and offers many categories that offer more choices for consumers, with a small amount of money you can completely choose for yourself a favorite sports bike. suit the needs. But it is not easy to choose good quality sports bikes, because the current flow of counterfeit, counterfeit and poor quality makes the bicycle market turbulent. Confused consumers do not know that they are buying a good quality bicycle or not? That is why we need to know the necessary information to be able to be knowledgeable and can choose quality products.
2.Be the discerning consumer
To be able to help you choose quality products, you should master the following.
2.1 The origin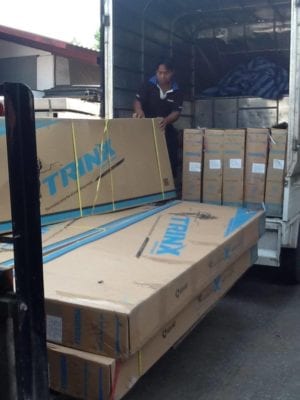 This is the first thing to consider when buying a sports bike, so know the origin of the bike, where it is made. In addition, you should thoroughly research the brand before going to buy. The older the brands, the more prestige and quality are confirmed in the bicycle market in general.
Most sports bicycles are imported from China, you should distinguish products made by China by themselves. (For example, Trinx is a famous Chinese bicycle company that has been confirmed in the bicycle market. Asian and European products) should not be misinterpreted about the quality of Chinese goods. The famous bicycle manufacturers in the world have headquartered in China to be able to easily optimize fuel and easily distribute them to countries in Asia, Pacific
2.2 Trademarks
Brand is the second factor that consumers care about when buy a sports bike . A reputable and long-standing brand can affirm the quality in the market and build trust for customers because they have advanced techniques and technical skills with good workmanship. Some quality brands that you can refer to are: Giant of Taiwan, Trinx of China, Twitter of Germany and Nakxus of Germany …
2.3 Vehicle quality
The cars are segmented according to cheap to mid-end and high-end. Of course the quality will depend more or less on the price tag. You can completely choose a car that is suitable for your money spent with your preferences and needs.
For each segment, cars for the enthusiast car enthusiast are better equipped with better movements, while on low-cost models they are equipped with normal accessories. more people.
Currently, the frames of most sports bicycle manufacturers in the world are manufactured according to European standards, or comply with the most advanced standards in the world. The frames are manufactured according to advanced standards, which are then subjected to the testing of hardness, impact and strength after that if they meet new standards, they are put into the finished assembly process.
All kinds of accessories and accessories to follow the equipped car are all famous accessories such as Shimano, Sram …
Distinguish counterfeit and fake goods like?
+ Frame: elegant frame is not foolish, each weld is smooth without opening
+ Car paint: Counterfeit cars often have a very wild, faint paint that easily peels off rust
+ Stamp: Not clear, faint
2.4 Where to buy quality and prestige sports bicycles?
So how to buy genuine sports bicycles With good quality, reputation with good warranty and maintenance, this is exactly what customers need to answer when shopping for bicycles.
Those are the store addresses selling sports bicycles per year, you can see a degree of professionalism in the store's layout. You can buy directly or online on online stores at the website and page of the store with the most realistic pictures and at public prices, with long warranty. Free maintenance is applicable to all products.
Only with that professionalism, it is enough for customers to be more secure when buying with the guarantee of the best prices and benefits so that customers can be assured of choosing a reputable shipper. credit and long-term companionship.
Proud to be a distributor of sports bicycles, racing bicycles, folding bikes with the best prices on the market. Bicycles World has long been an address Bicycle shops Many customers choose to give confidence in a good and quality product.
– Possessing a warehouse of up to thousands of M2, Bicycles World confidently supplies and distributes to agents, wholesalers and supplies to the nationwide consumer market.
-Customers have the opportunity to experience reality before buying a car
Coming to Bicycles World, you not only have more opportunities to choose from the most diverse range of sports bicycles, but also have the opportunity to experience the real world. sports bicycle buying advice detail before making the right decision to choose a car like that.
With the above sharing, hopefully you will be able to buy the best sports bike suitable for you and your family.
The Gioi Bicycles Showroom at: 9, Lane 214 Nguyen Xien, Thanh Xuan, Hanoi
-Hotline: 0979.82.9922 or 04.6686.9919
>> Maybe you are interested: Top 9 bicycles are hot in Bicycles World

Source content: Where to buy good quality sports bicycle?
>> Bike How